SuperPro Pick-Up Easy-Lift Kits
This is our 2019 Toyota Hilux showing before/after fitting our Easy-Lift Kit. Move the slider left or right to show standard height vs SuperPro Easy-Lift Kit (50mm lift front and rear).
Responding to the ever-increasing demand from owners that are looking for an efficient and effective way of boosting the look of their pick-up and in doing so, raise its ride height, performance suspension specialist SuperPro has produced a range of easy-to-fit lift kits. Comprising rear leaf-spring lift blocks, extended U-bolts and strut-top spacers, each kit is manufactured specifically for each model and is designed to work in harmony the vehicle's OE suspension system.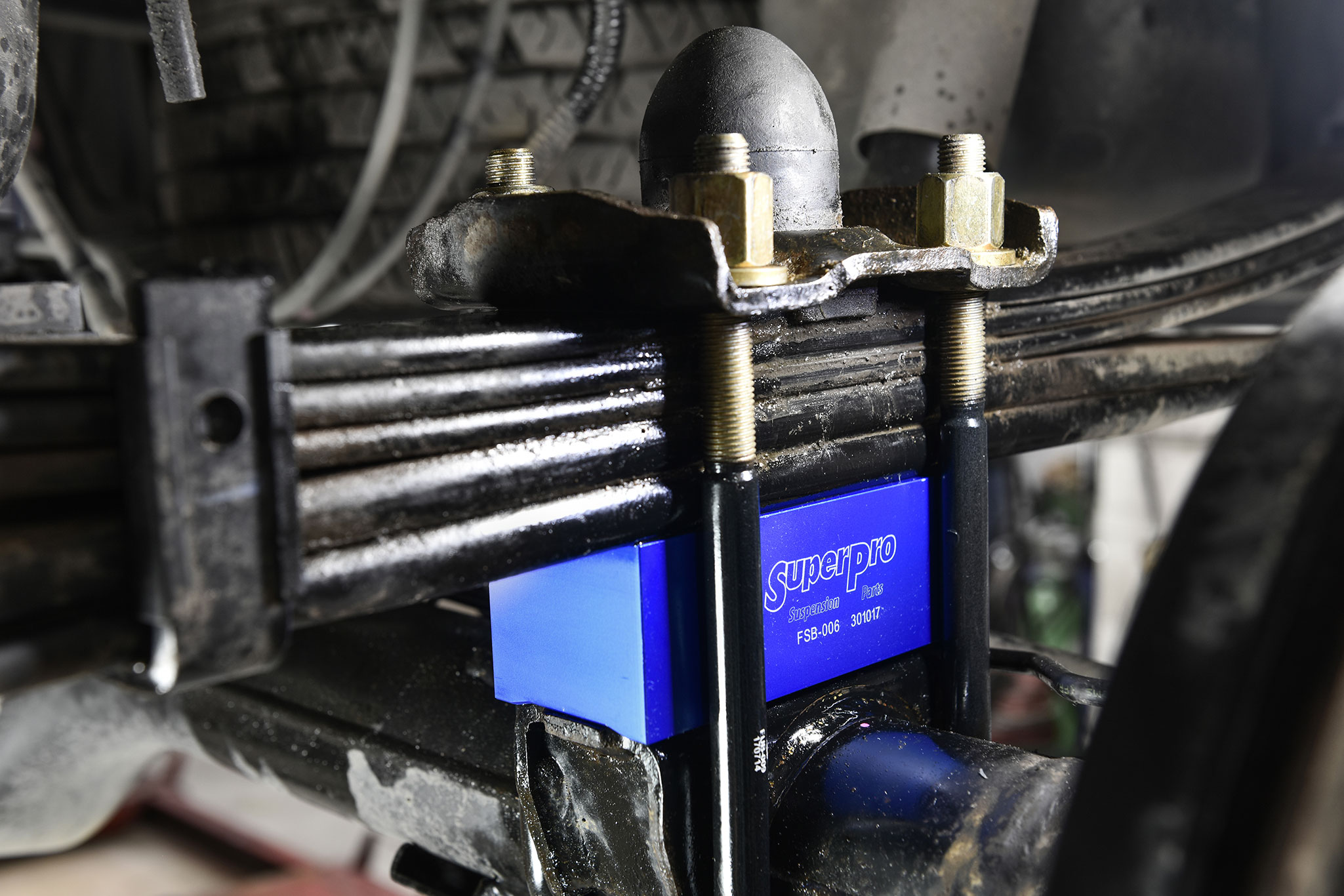 Since the company was started over 35 years ago, SuperPro has earned itself a well-deserved reputation for providing high performance upgrades that enhance the operation and efficiency of suspension systems, especially when it comes to 4x4s and SUVs. Its prowess when it comes to off-road and utility vehicles is hardly surprising, bearing in mind that the business was established in the acknowledged home of the 'Ute', Australia.
SuperPro's Easy-Lift Kits are an ideal solution for owners who use their vehicle for on-road and light off-road duties. They are also ideal for those looking for an un-intrusive and therefore easily reversible, inexpensive, safe and legal option in order to gain a little more ground clearance whilst, at the same time, retain the feel of the standard suspension but with the enhanced look and stance of a 'lifted' pick-up.
"In the past, bolt-on aftermarket spacer kits have received a certain amount of criticism; some not properly developed and therefore having an adverse effect on handling, braking and potentially, driver control", explains SuperPro Europe Managing Director Richard Fearn.
"SuperPro has carefully developed these kits to ensure they carefully correspond with each vehicle's suspension geometry and dynamics."
To ensure vehicles continue to perform as the manufacturer intended, each SuperPro Easy-Lift Kit incorporates the following features:
Front and rear rides heights are raised by the same amount. This maintains OE rake and weight distribution and consequently ensures braking performance remains unaffected.
A maximum suspension travel height is set so that dampers do not bottom out before striking the bump stop.
Every kit's lift height is unique to specific model applications, with the associated hardware designed, engineered and thoroughly tested to ensure compatibility with each vehicle.
Each kit is supplied with all required parts together with comprehensive fitting instructions.
Key Product Ranges
Models Covered