Rear Suspension Upgrade Kit for the Isuzu D-Max and Rodeo Pick-Ups
The SuperPro leaf spring and greasable shackle upgrade kit for the Isuzu Rodeo and D-Max pick-ups is designed to help increase component life, whilst maintain ride and stability - especially when the vehicle is loaded.
Isuzu's pick-ups are extremely capable vehicles and, like most vehicles of this kind, have leaf springs fitted at the rear. This configuration copes well with heavy loads and, with no requirement for strut turrets, provides greater space for carrying goods.
When the suspension moves or weight is applied, the leaf springs start to 'flatten' and consequently the distance between the front and rear mounting points increase. As the front mount is a straightforward pin and bush fixing, it's the rear point that moves. This is achieved by the use of a shackle that pivots backwards in order to compensate for the extended length of the spring.
The bushes and shackles therefore play a key role in controlling the movement of the spring as it extends and contracts. If the bush is not compliant, or the shackle movement is restricted by for example by corroded pins, overall performance of the suspension is affected, reducing ride quality and increasing the wear rate of components including the spring itself.
If the bush allows too much axial movement, the laden spring will twist, putting excessive strain on the front mounting bolts, the rear shackle pins and spring-retaining U-bolts. Consequently, the impact on the rear suspension components can be significant, especially if the vehicle is regularly used for carrying heavy loads or traversing uneven terrain.
Therefore, to overcome these issues, SuperPro has developed an easy-to-install kit that comprises all of the components required to upgrade the rear suspension system. The kit includes a set of pins for the front and rear mountings that have a grease nipple at one end, enabling them to be lubricated at service intervals. This reduces the likelihood of any corrosion and subsequent restriction of movement that can occur with the standard items.
All of the parts contained in this kit are available separately. As well as via SuperPro stockists, kits are available as approved accessories from all Isuzu UK dealers.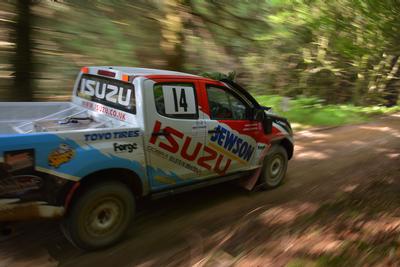 Related Links